MIKE BECK - SOLO ACT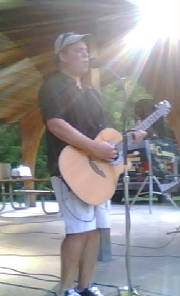 Mike performs full time throughout the Delaware Valley. He sings and plays acoustic & electric guitars. He also plays bass guitar, keyboards, congas, bongos and many world percussion instruments.
Mike performs and records his background tracks at his infamous "Chilltown Studio" and then accompanies himself live. The result is a full rockin' sound that keeps him booked year round.


Mike has also provided music for the soundtrack of several independent films .
Among them are:


"THE TEA MAN",
directed by Joseph Carlin, Starring Eddie Tunick.
..and "SEARCHING"
directed by Caroline Boyd.


Mike is joined by longtime friend and skilled guitarist Clyde Crum. Clyde is well versed in all styles of popular music, and he specializes in southern and classic rock. The duo is a favorite at parties and clubs from PA to the Jersey shore.