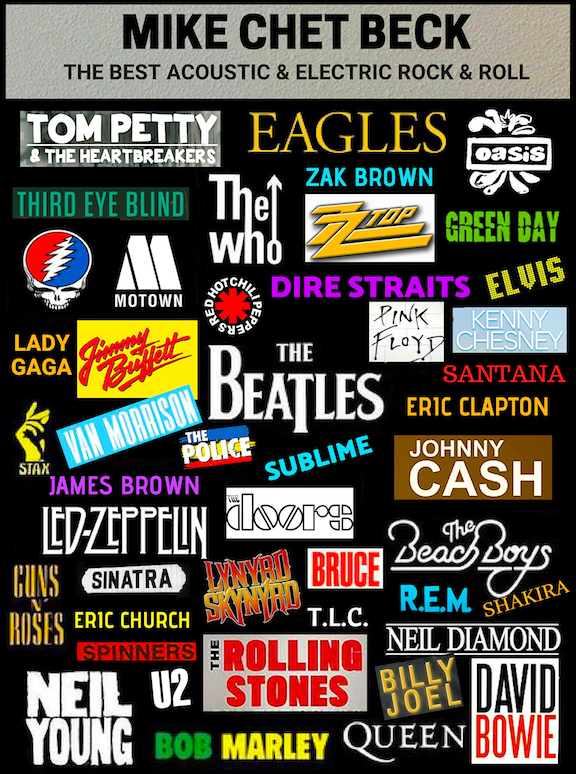 LIVE SHOW SET LIST includes:




CLASSIC ROCK:
The Beatles, The Eagles, Eric Clapton, Tom Petty, Fleetwood Mac, Queen, Bruce Springsteen, Billy Joel, the Doors, Allman Bros, C.C.R, Santana, Grateful Dead, Elton John, John Mellencamp, Steve Miller, Bob Dylan, Pink Floyd, ZZ Top, Neil Young,Van Morrison...
Guns & Roses, Traveling Wilburys, U2, Elvis Costello, David Bowie, Joe Cocker, the Band, The Who, Chicago, Lynyrd Skynyrd, Jackson Browne, Warren Zevon, Stray Cats, Doobie Brothers, Joe Walsh, Buffalo Springfield, Van Halen, Bob Segar, Rolling Stones, Peter Frampton, Crosby, Stills & Nash, Cream, The Monkees, Lovin Spoonful, Hall & Oates, Moody Blues...
2000'S to 2020's:
Jason Mraz, Everclear, Oasis, Third Eye Blind, Snoop Dogg, Flo Rida, Post Malone, The Lumineers, Mike Posner, Kings of Leon, Sublime, Los Lonely Boys, Pearl Jam, Bazzi, O.A.R., Nirvana, EMF, Amy Winehouse, Michael Buble, KT Tunstall, Barenaked Ladies, the Wallflowers, Phil Phillips, Shaggy, John Mayer, Apache Indian, Shawn Smith...
BEACH & ISLAND MUSIC:
The Beach Boys, Jimmy Buffet, Bob Marley & the Wailers, Peter Tosh, Kenny Chesney, Van Morrison, Zak Brown Band, Leon Russell....
COUNTRY: (New & Classic)
Kenny Chesney, Luke Combs, Chris Stapleton, Zak Brown Band, Merle Haggard, Dwight Yoakam, Garth Brooks, Johnny Cash, George Strait, Hank Williams Jr., Charlie Pride, Willie Nelson, Waylon Jennings, Roger Miller, John Pardi, BJ Thomas, John Denver, Marshall Tucker, Kentucky Headhunters, Chris Isiak, Eric Church, Confederate R.R, Kenny Rogers, Kris Kristoferson, Jerry Reed...
OLDIES:
Chuck Berry, Neil Diamond, Elvis Presley, Buddy Holly, Frank Sinatra, the Drifters, Dion, Temptations, Ben E. King,
...... Otis Redding, Del Shannon, Bobby Rydell, the Diamonds, Phil Phillips, Dobie Gray, King Harvest, Dean Martin, Tony Bennet, Al Alberts, the Zodiacs, Ricky Nelson, Otis Day & Nights, Guy Mitchell, Roy Orbison...
70's SInger/Songwriters
Paul Simon, Gordon Lightfoot, Jim Croce, Neil Young, Don McLean,Tom Waits, John Denver...
DANCE:
James Brown, Marvin Gaye, K.C. & Sunshine Band, Robin Thicke, Wild Cherry, Prince, Grand Funk Railroad, Hot Chocolate, Temptations, TLC, Romantics, Violent Femmes, Manhattan Transfer, Ernie K. Doe, Gnarls Barclay...
BLUES:
B.B King, Eric Clapton, Stevie Ray Vaughn, Joe Bonamassa, ZZ Top, Etta James, George Thorogood, Jeff Healy, J.J. Cale. Keb Mo., Tracy Chapman...